In Stock
Walkera Voyager 5 + Thermal Infrared Camera RTF, Reliable industrial drone application expert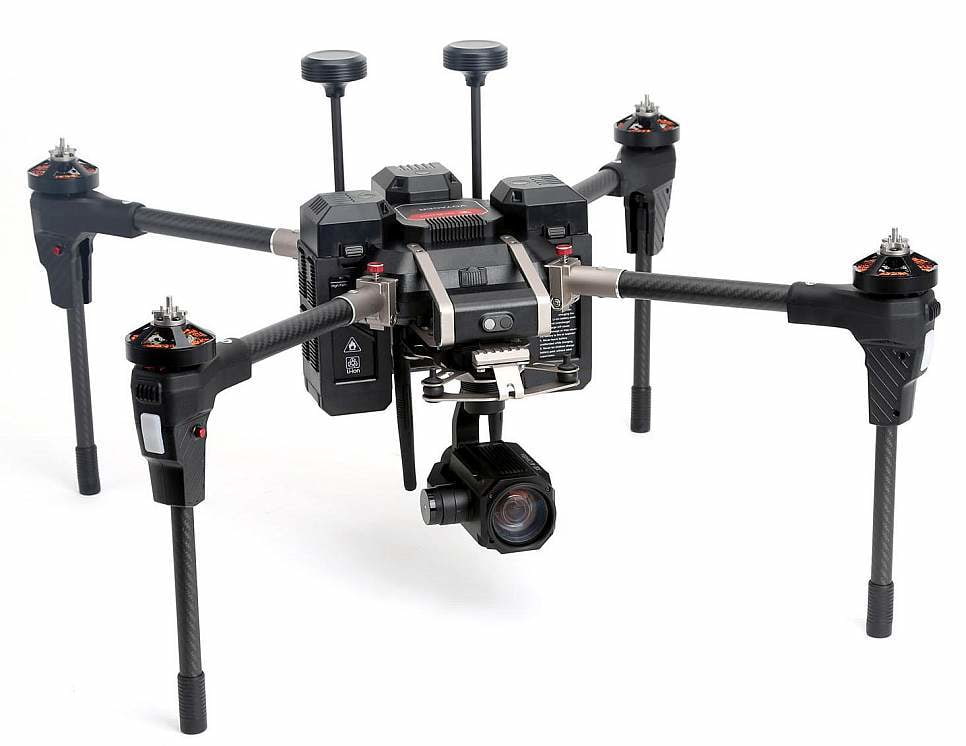 Ready To Fly Package (RTF):
Includes:
Voyager5 (with two pairs of propellers)
F8S
Thermal imaging camera (HTN120 UAV) + gimbal
USB cables
3x battery
1x charger
User manual
Backbag
Voyager 5
Reliable industrial application expert: Voyager 5 integrated a safety assurance system called FlightSafety, which is composed of a dual IMU, dual compass, and dual GPS system, in order to make it much more reliable and safer.
Foldable Design For Great Portability: The innovative design makes the aircraft arms and landing gear all foldable and portable. Easy assembly generates quick operation.

Revolution Of Productivity: Voyager 5 is capable of payload and extensions. By carrying highly integrated devices, the drone is able to solve many problems in different application scenarios.

Thermal infrared camera: Due to the strong penetration ability, thermal infrared camera is able to detect objects, measure temperature from the distance, and identify hidden targets, and it provides 24 hour vision. Based on image and temperature algorithm, the camera enables you to identify targets in bad weather conditions.
Drone Solutions For
Powerline inspection: The drone is able to identify equipment failures instead of human inspection, greatly elevating operation efficiency. With the help of 30X zoom lens, the drone is capable of carrying out long-range inspection without operation risks generated by magnetic interference.
Search and rescue: With the powerful flight duration and ultra-long range flight performance, Voyager 5 could be widely used in forest fire protection, disaster relief, etc.
Traffic enforcement: In areas far away from roads and people, with the help of 30X lens camera, you have easy access to high definition car plate and better law enforcement capability.
Police, military and security reconnaissance: With backpack designed for individual combat, Voyager 5 enables soldiers to carry out reconnaissance missions. The drone is capable of identifying targets and acquire intelligence in scenarios like foggy weather or camouflage.
Environmental perception
The front facing infrared obstacle avoidance module, altimeter and optical flow positioning module, enable the aircraft to better position and sense obstacles while flying in the air, greatly reducing risks caused by misoperations.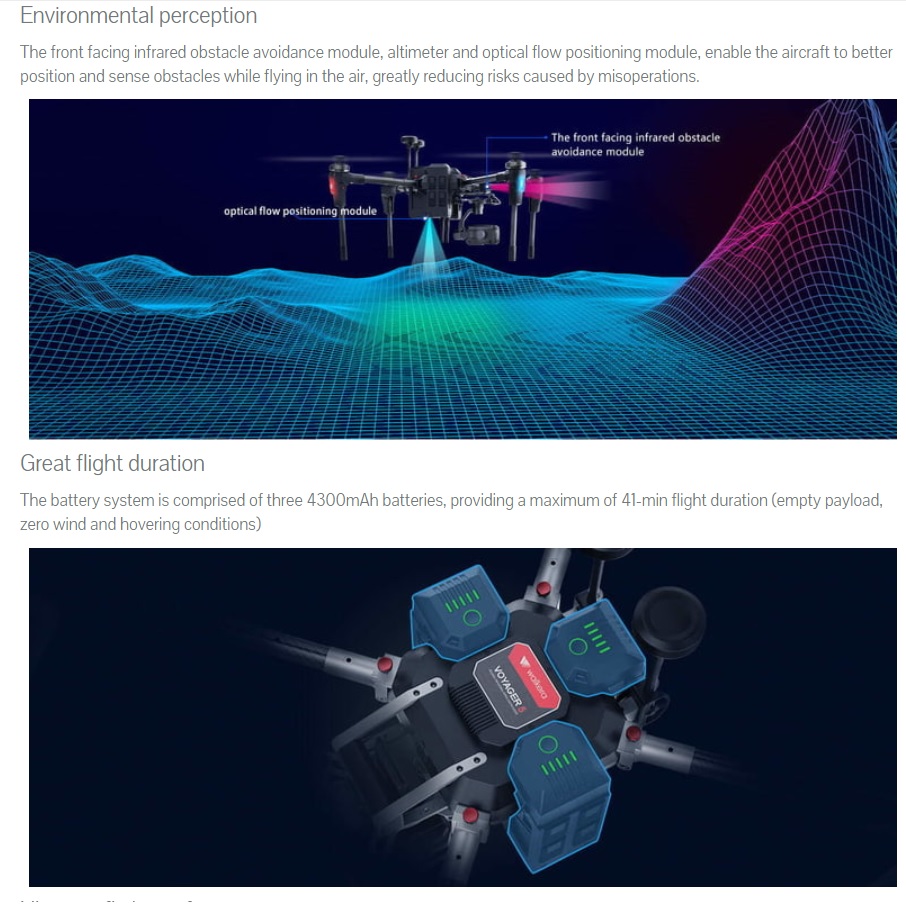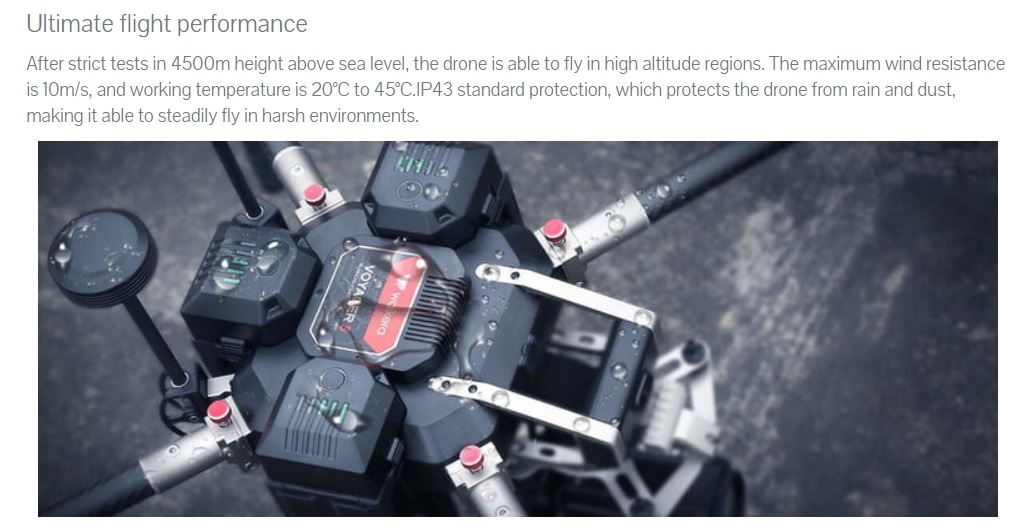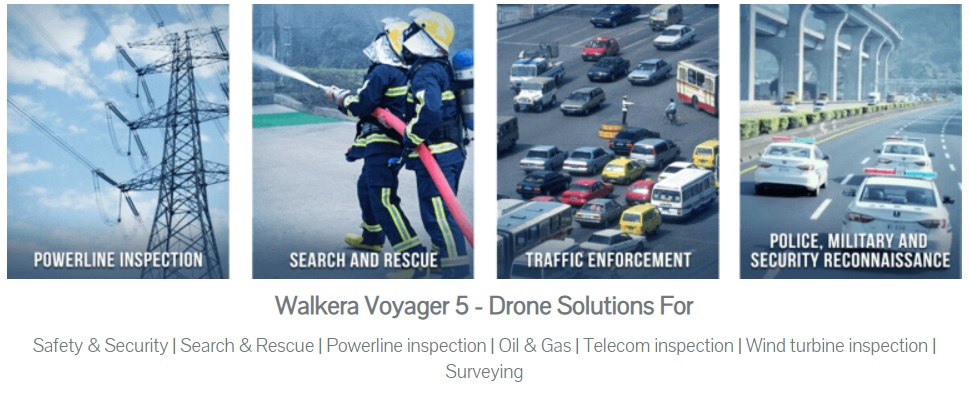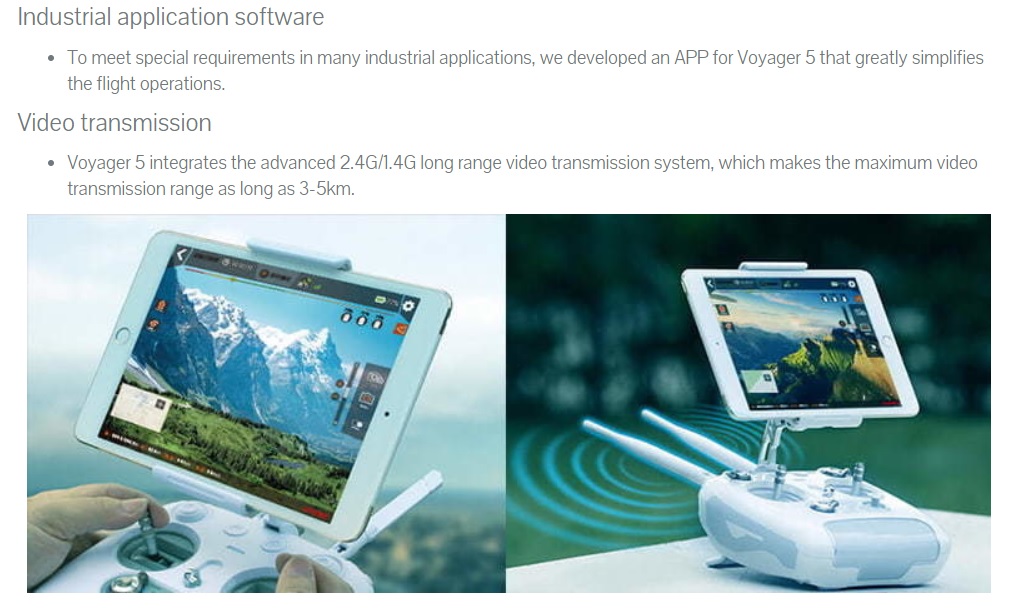 Features
The innovative design makes the aircraft arms and landing gear all foldable and portable. Easy assembly generates quick operation.
The brand new three-battery redundant system provide Voyager 5 with double protection. Even when two batteries have problem, the rest 1 battery still can ensure the flight safety.
Voyager 5 integrated a safety assurance system called FlightSafety, which is composed of a dual IMU,dual compass, and dual GPS system, in order to make it much more reliable and safer.
The front facing infrared obstacle avoidance module, altimeter and optical flow positioning module, enable the aircraft to better position and sense obstacles while flying in the air, greatly reducing risks caused by misoperations.
Adopting the advanced 2.4G long range video transmission system, which makes the maximum video transmission range as long as 5km
---
Product Specification
Main Rotor Dia.: 17 x 5.5 inch symmetric motor wheelbase:700mm
Overall (L x W x H): Unfolded 1100 x 1100 x 340mm / folded 300 x 300 x 340mm
Weight: No payload weight: 2400g / Maximum takeoff weight: 5500g
Remote Controller: DEVO F18G
Brushless Motor: WK-WS-58-001
Brushless ESC: Voyager 5
Battery: 22.8V 4300mAh 5C(6S) LiPo
Flight Time: No payload: ayload: 45min, Payload: about 30min
Working environment: -10C ~ +40C
Gimbal:
Controllable accuracy: Static: ±0.008°; Motion: ±0.02°; Shake-proof: ±0.008°
Controllable range: Pitch rotation -90°~ +45°; Horizontal ±150°
Max Controllable Speed: Pitch: 30°/s
Downward Vision System:
Velocity range: Velocity <10.8km/h ( 2m above ground and sufficient lighting)
Altitude range: <3m
Hover accuracy range: ±0.5m
Frequency: 50Hz
Operating environment: Surfaces with rich patterns and sufficient lighting
Infrared Obstacle Avoidance System:
Obstacle detecting range: 5m
FOV: horizontal 30°; vertical ±30°
Frequency: 20Hz
Remote Controller:
Overall: (L x W x H) 165 x 174 x 62mm
Operating Frequency: 2.4G
Transmitting Distance: About 5km (open without shelter, no electromagnetic interference)
Video Output Port: USB, HDMI
Built-in battery: 7.4V 3000mAh Li-po 2S
Mobile device holder: Applicable to tablet and phone